Skin Care, Facials, and Face Mapping  – Aurelio Salon and Spa in New Jersey

Aurelio Salon and Spa is a Dermalogica location.  We offers skin care, facials, microdermabrasion, and Face Mapping Skin Analysis for women and men at the two different salons in Howell and Toms River New Jersey. After a thorough cleansing, our skin care therapist will discuss with you the condition of your skin and determine solutions to address your concerns. All of our Aestheticians are trained in all types of facials and microdermabrasion and are available for all of your skin care needs.
Our facials, using exclusively Demalogica products, include an acne facial, acne skin care, four layer masks, four layer facial, Non-Surgical Face-lift, teen facial, deep cleansing facial, our signature facial, Microdermabrasion, facial treatments, and more.
Face Mapping Skin Analysis is a revolutionary Dermalogica approach to analyzing your skin. Using the Dermalogica Face Map and breaking you face into zones, our therapist( trained at The International Dermal Institute) is able to conduct an inch-by-inch, methodical analysis of your skin, after the analysis is preformed our therapist will give you a professional treatment and home-care prescription will fully address each of your skin care need and concerns.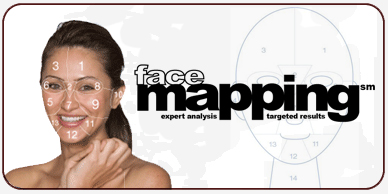 Our Estheticians can help you get your skin in the best condition ever! After you choose your facial you can customize it with our facial additions. Some of the treatments available are listed out below and described in more detail:
Micro Zone Treatments – These treatments target solutions to immediate skin concerns from dry skin to oily skin.
Mini Facial – This mini facial rejuvenates your skin with a deep cleansing exfoliation and a mineralizing mask leaving your skin free of impurities.
Aurelio's Signature Facial – A facial that penetrates deep into the skin to promote a healthy glow and remove impurities. You will receive a deep cleansing and extraction of any clogged pores after a customized skin analysis. Your skin is massaged, steamed, and exfoliated and then you relax while you are under a cooling and hydrating mask.
Teen and Acne Facial – Eradicate bacteria from the skin in order to prevent additional tribulations. A precise strengthening and purification of the skin is performed and followed by a detoxifying mask.
Age Defying Facial – This facial targets wrinkles and fine lines or loss of firmness due to things like sun damage. Increases cell turnover and fights against free radical damage. Uses Vitamin C therapy which stimulates collagen production leaving you with more radiant and smoother skin.
Hydrating Facial – Brings moisture back to your skin and restores your skin so it is not dry and helps prevent the skin from loosing natural oils. It hydrates and nourishes the skin smoothing fine lines and softening character lines. Create a natural healthy glow with the minerals used.
Sinus Relief Facial – It clears the sinus and respiratory systems while it purifies your skin. Pressure and puffiness subside.
Uplifting Face and Neck Treatment – Tones, lifts, and elasticizes a person's neck and face. Skin will look younger, glow, and feel firmer.
Oily Skin Facial – We offer remineralizing and detoxifying treatments that energize, hydrate, and release fluid for younger supple looking skin.
Sensitive Skin Facial – Cools, repairs, and sensitizes tender overstimulated skin with extra care.
Learn more about the hair and beauty services we offer at Aurelio Salon to customers.  You can read more information about the hair styling services we offer or read about the makeup services we offer to women. Gift the gift of beauty with one of our gift certificates available in any denomination.
Call Aurelio Salon in Howell at 732-303-0052 or 732-551-2930 in Toms River New Jersey to learn more about the skin care, facials, and body treatments we offer to our customers.