Whats New at Aurelio Salon and Spa!
Our Upgrade Menu!
Are You Worth An Upgrade?   Aurelio Salon introduces our upgrade Menu. Treat yourself to an upgrade. Click to Schedule Appointment for Howell or Toms River! 
Featuring Ammonia-Free Color Services: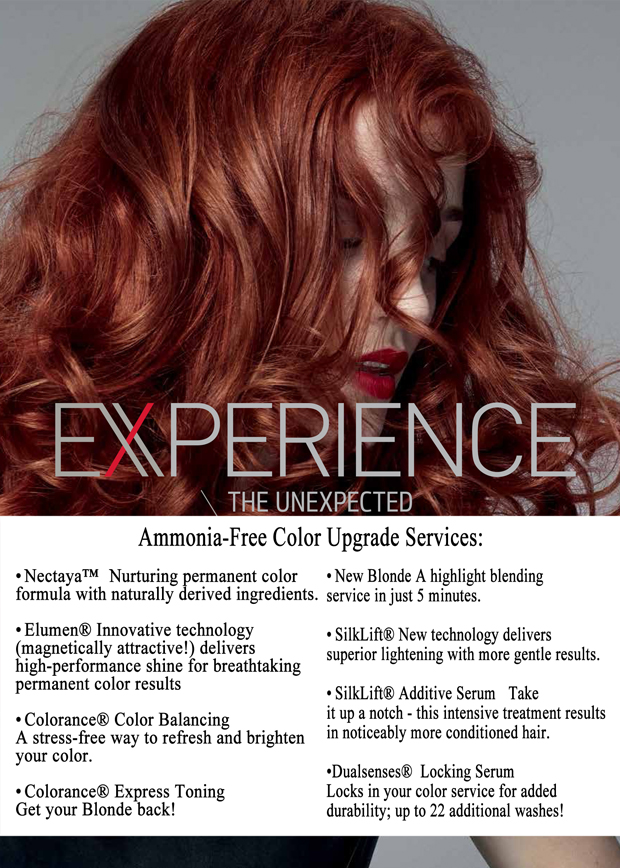 • Nectaya™ Nurturing permanent color formula with naturally derived ingredients. • Elumen® Innovative technology (magnetically attractive!) delivers high-performance shine for breathtaking permanent color results • Colorance® Color Balancing A stress-free way to refresh and brighten your color. • Colorance® Express Toning Get your Blonde back! • New Blonde A highlight blending service in just 5 minutes. • SilkLift® New technology delivers superior lightening with more gentle results. • SilkLift® Additive Serum Take it up a notch – this intensive treatment results in noticeably more conditioned hair. •Dualsenses® Locking Serum Locks in your color service for added durability; up to 22 additional washes!
Memberships are now at Aurelio Salon! Join the Titanium Club!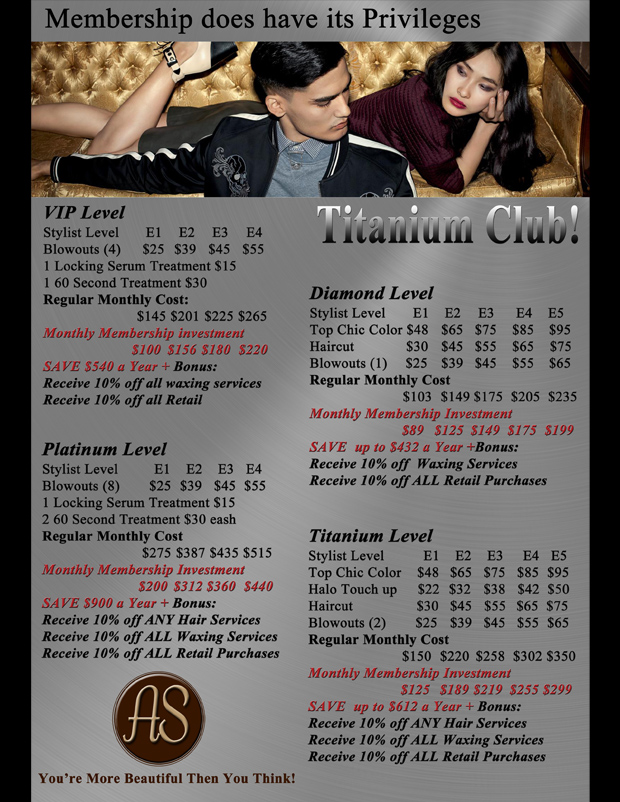 Unwash!!!
Unwash Is a bio-cleansing conditioner that can replace your Shampoo.  Click here to learn more about it!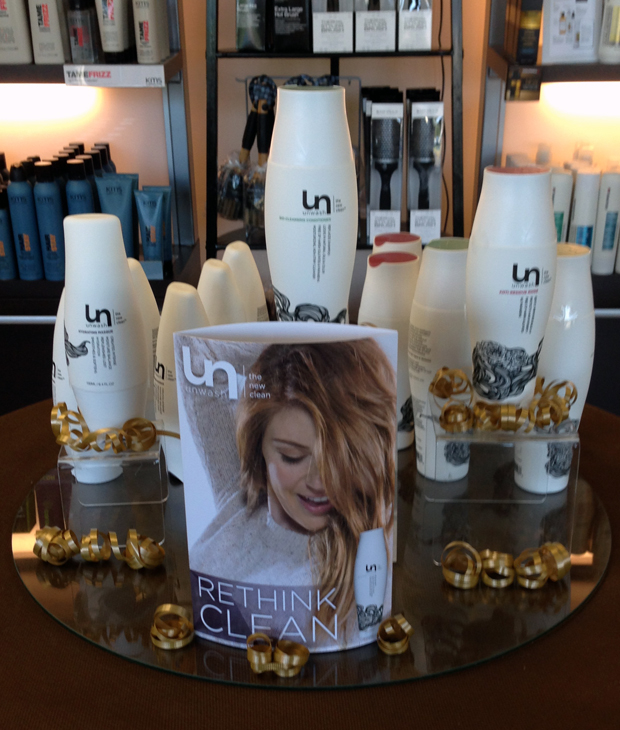 Fast Blow Dry now available at AURELIO SALON  GK fast Blow DRY smooths and tames hair, helps prevent breakage, and cuts your blow-drying time down by 50%. The best part of all the GK Fast Blow-dry is Fast & Easy.
GKhair's NEW FAST BLOW DRY contains a concentrated dosage of JUVEXIN, which allows you to experience the benefits of amazing shine, frizz free and smooth hair.  The product enables the hair to fight against the effects of humidity reducing styling and drying time.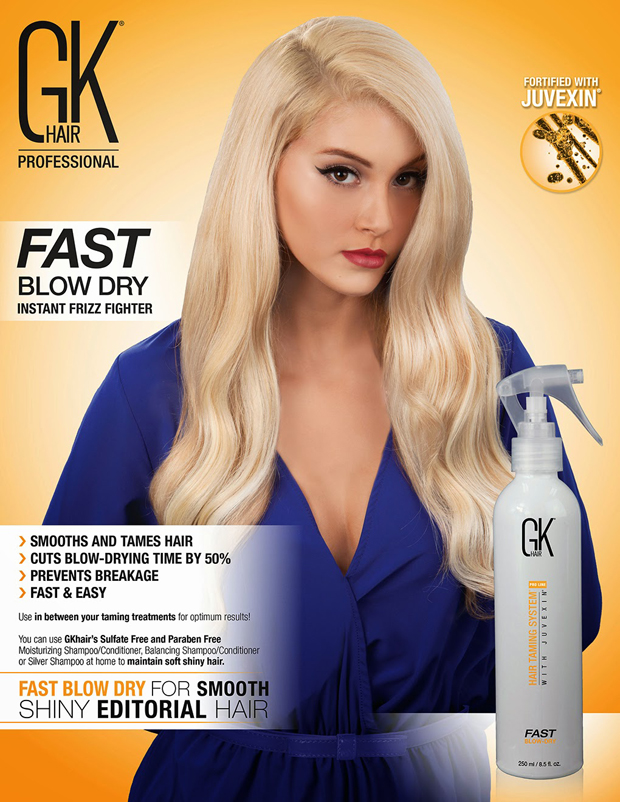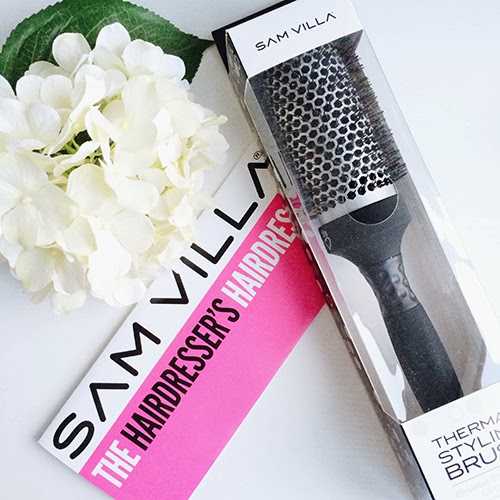 Sam Villa's Signature Series Brushes features 100% first cut boar bristle and tourmaline infused nylon for smooth shiny finishes to create smoother and healthier looking hair. With ionic and ceramic benefits, you'll curl and smooth hair faster than ever before.
The 2-in-1 styling + finishing 
Simply spray into dry hair, section by section, prior to styling with hot tools to allow for memory and heat protection. Use as a final step to hold your style in place, while adding brilliant shine!Bonus: This new product is humidity resistant!! Perfect for a rainy day forecast !
KERASILK TAKES YOU FROM FRUSTRATING TO FABULOUS HAIR THAT LASTS UP TO 5 MONTH!   DISCOVER THE ULTIMATE TRANSFORMATION WITH KERASILK FROM GOLDWELL!  KERASILK KERATIN TREATMENT IS THE FIRST CUSTOMIZABLE LONG-LASTING KERATIN SMOOTHING TREATMENT FOR HAIR LIKE SILK.
Read about it in our Blog   Click here!
DualSenses Ultra Volume Dry Shampoo
Goldwell has designed a dry shampoo to keep hair clean and voluminous through any weather condition. This dry shampoo is entitled DualSenses Ultra Volume Dry Shampoo.
Click here to read about it in our Blog!
Goldwell and KMS Now at Aurelio Salon.
  November 2013 Aurelio Salon of Toms River and Howell introduced Goldwell and KMS into there line of Products.  The results for Goldwell Color is Amazing! Check out the Salons Facebook Pages and check out the results!
https://www.facebook.com/AurelioSalon
https://www.facebook.com/pages/Aurelio-Hair-Salon-and-Spa-of-Howell/73305633235
 https://www.facebook.com/ASTomsRiver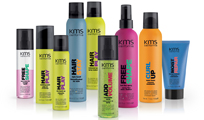 Dermalogica NOW at Aurelio Salon!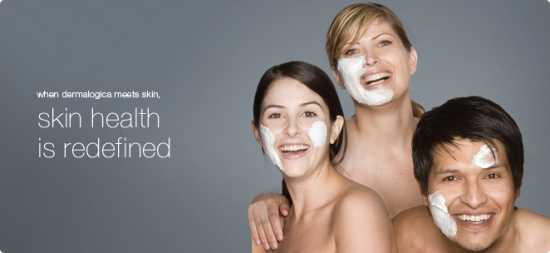 When Dermalogica meets skin, skin health is redefined. Dermalogica is the number one choice of skin care professionals and consumers worldwide. Why? Because for over 25 years, we've been dedicated to delivering skin health results through education, innovation, and professional recommendation, not through advertising, frilly packaging, promises of miracle cures, or overblown hype. 

Beauty Addicts:  beautyADDICTS is a boutique makeup collection that is inspired by the lifestyles, moods and attitudes of modern women. These moods are expressed through the four color families which are comprised of the most desired and flattering shades. Receive a free makeup application with any purchase of $35 or more in Beauty Addicts. For more ideas or lessons consult with any one of our Makeup Artists. For questions regarding Eye Lash applications or extensions please call either location.
Aurelio Salon is Proud to Announce that we are now carrying GK Hair!
THE GKhair™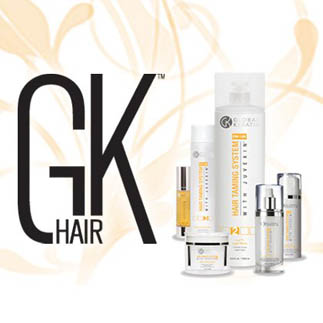 The GKhair Hair Taming System with Juvexin restores hair by repairing and providing long-term conditioning and protection. GKhair is the first and only company to harness the beauty benefits of Juvexin. Derived from sheep wool through an environmentally-friendly process, Juvexin is delivered to the hair in its natural state. Juvexin is GKhair's foundation in creating manageable, frizz-free, beautiful looking hair for all those who want it."The Best" way to tame and manage your hair.Rejuvenates while straightening and strengthening hair for up to 5 months.HOW IT WORKS:
"The Best" reduces the stiffness (elastic modulus) in the hair, this reduction
or softening effect causes the hair to lose its natural curl and feel softer.
The greater the concentration along with application of Juvexin, the softer
or straighter the hair will become.Juvexin penetrates throughout the hair shaft delivering important
conditioning and moisturizing benefits. This improves the softness and
reduces friction enabling the hair to better withstand heat, helps make hair
less prone to breakage and improves the lubricity of hair, giving hair overall
better manageability. On both wet and dry hair there is less entanglement
during brushing, making the hair less prone to breakage and improving
manageability.
What is Juvexin? Juvexin is a special blend of proteins and peptides
optimized specifically for hair. Juvexin has been developed to protect
and restore the hair back to its youthful state and is found in all GKhair
products worldwide. Juvexin restores your hair to its pristine condition.
It puts back the same properties found in young, healthy and vibrant hair
which are usually lost over time. There is nothing artificial and no harsh
chemicals are used.
"THE BEST" IS BETTER!
• Easier application
• Leaves the hair healthier using a high concentration of Juvexin
• Reduces styling time
• Clients can air dry hair
• No wait time for shampooing
• One formula which can be customized to offer varying results

What is in the Deva  System? The answer is what is NOT in the Deva System. We took the poo out of shampoo, the harsh lathering and dehydrating detergent found in most shampoos that has no inherent value in the cleansing process. We've removed all unnecessary chemicals that often play on hair's vulnerability. We added extra botanical and moisturizing ingredients that cleanse, condition and re-hydrate the hair, more than any products existing on the market today. Each product has it's own unique blend that will enhance the overall quality of dehydrated hair. Exclusively designed hair care system for curly, wavy and chemically processed hair.
Americans are addicted to lather" says the tress-obsessed curly girl Lorraine Massey, author of the must have book, Curly Girl (Workman Publishing,2001). Massey warns, "laundering curly hair (which is what most people are doing with ordinary detergent shampoos) just about guarantees a mass of over-dry, frizzy, shapeless locks." That's why Lorraine developed the Deva product line. This unique system, with its own unique blend of botanically infused moisturizers and cleansers, will rejuvenate, restore and respect your hair's natural order without the use of harsh chemicals.
Whether your hair is curly, wavy, or chemically processed, there is a Deva product that is right for you! Choose from DevaCurl or DevaCare, and let your hair enjoy the benefits of botanically infused and sulfate-free technology. Deva removed the harsh, dehydrating detergents that create lather " which is purely aesthetic and does not clean the hair " and infused a high concentration of cleansing and moisturizing botanicals that rejuvenate, restore, and respect your hair's natural order. For all curl types.
Botanical infused and always 100% sulfate-free! With Deva curly hair is not a trend it's a lifestyle.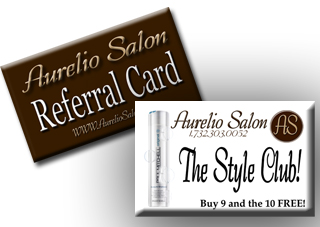 Pick Up Your Cards Today!!
Referral Cards!!!  Pass these cards out to your friends so they can experience the same Great Hair Experience you received and get $5 off their visit!
Ask your Stylist Today on how you can get free services!
Buy 9 Products and get the 10th Free
See salon for Details. Value of free product can not exceed $10
Give the gift of beauty. Gift cards are available in any denominations.
Aurelio Hair Salon and Spa are Paul Mitchell Focus Hair salons, our hairdressers offer the latest haircuts, hair coloring, hairstyles, GK Smoothing Treatments, Cinderella hair extensions, hair feathers, hair straightening, perms, relaxer, straighter, waxing, makeup, facials, hair removal and more! Serving Howell, Toms River, Brick, Jackson, Freehold, Lakewood and the surrounding communities. Our hair stylist are trained in the latest fashion and techniques. We use and carry Paul Mitchell, Deva Curl, Beauty Addicts, Dermalogica, The Cures, Cinderella Hair Extensions, and GK.
Aurelio Hair Salon and Spa serving Howell, Toms River and the sounding communities with finest Salon and Spa Experiences.
Aurelio Salon and Spa 2225 Highway 9 North, Howell, NJ 07731             732-303-0052
Aurelio Salon and Spa 1580 Highway 9, Toms River, NJ 08755                732-551-2930