Daisy Rosania from Aurelio Salon in Howell NJ created a beautiful Black Cherry color on her client Nicole's hair. When Nicole came into the salon she was very unhappy with her hair. Her hair, at her last service in another salon, was dyed black and damaged. If you like this color and look please call the salon and ask for Daisy!
So how did Daisy achieve the beautiful look to Nicole's Hair? By thinking outside the box and blending 3 different formulas. In the new hair growth she applied Formula A.  On the Mid-lengths and ends she sprayed Goldwell Dualsenses Equalizer Spray into the hair and applied Formula B to that area and allowed it to process.  Once processed Nicole's Hair was  washed with Goldwell Dualsenses Color Fadestop Shampoo and Conditioner.  Her hair was towel-dried and then Daisy applied Formula C, glazing all strands and processed.  Rinse, condition, and style.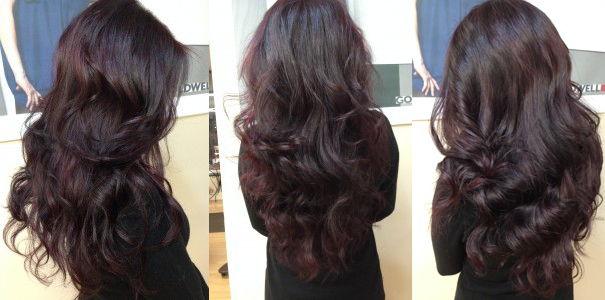 To get the style that Nicole has, Daisy used a Large round brush when blow drying.  Her style equation, the products she used is a combination of 3 as well.
StyleSign Double Boost
StyleSign Glamour Whip
StyleSign Magic Finish
Goldwell Style Sign Double Boost is a root lift and ultimate volume boost.  It makes hair feel thicker and stronger. It can be used on all hair types and its easy to use, shake well, spray onto roots of towel dried hair its that easy.
Goldwell Style Sign Glamour Whip is perfect for all hair types. This creamy styling mousse is alcohol free and adds volume to your hair with a strong, flexible hold.  It also provides your hair with heat and color protection.  To use, work this styling mousse into your towel dried hair before styling.
Goldwell StyleSign Brilliance Magic Finish Hairspray offers the ultimate in shine and protection for your colored hair. This hairspray provides strong hold to keep your style in place all day and night, without leaving unsightly residue.  For a sleek, polished look that won't budge. Its advanced formula adds unbeatable shine to colored hair improving it's color depth and tone while brushing out easily leaving no signs of residue.  To use it spray onto dry hair to add shine and hold.