Dusty Lavender Color To Violet Colored Hair – Aurelio Salon in New Jersey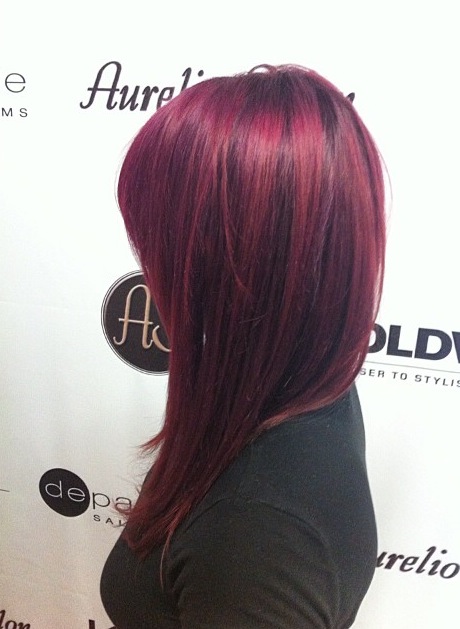 My guest came into the salon with a very faded, dusty lavender color. After trying pastel purple with not much luck, she decided it was time to deepen her color. After consulting with my guest, she finally decided on a very vivid, deep violet.
For the first past of her color, I sectioned the hair into quadrants. Starting at the nape, I sprayed her hair with Structure Equalizer Spray, to even out the porosity of her hair. Next, I applied formula A roots to ends and I processed for 30min.
After formula A processes, wash hair, but DO NOT condition. Back at the chair, completely dry hair, and re-section into quadrants. Begin to apply formula B to the mid-shaft and ends. After all the ends are covered, apply formula B to the new growth and process for 30min. wash and condition with Goldwell DualSenses Fade Stop shampoo and conditioner.
Before styling, I completed the color service with DualSenses Color Locking Serum.
To style, I applied Goldwell Jelly Boost to the roots around the crown and I applied Goldwell Glamour Whip to the ends of the hair. Blow dry to give the hair volume and body. Finish the style with Goldwell Magic Finish hairspray and Diamond Gloss shine spray.
Find out more information about us in our video and picture galleries. Read about industry news and trends on our blog or what's new at Aurelio Salon including events and rewards customer can receive Give the gift of beauty to Aurelio Salon (Voted New Jerseys Best Salon*). Gift cards are available in any denominations.
Visit us any time and receive a personal tour by one of our staff.
Call Aurelio Salon in Howell at 732-303-0052 or 732-551-2930 in Toms River New Jersey to learn more about how to change a dusty lavender hair to a vivid violet color.