A New Look for Aurelio Salon Hair Stylist in New Jersey
Aurelio Salon in Howell and Toms River creates an amazing blonde + blue hair color on Tim.
Tim came into the salon and asked about giving him a new look. After the initial consultation they determined that Tim is a natural level 4, medium brown, hair color. The goal is to take him from the level 4 to a platinum blonde on sides and roots fading Blue on top.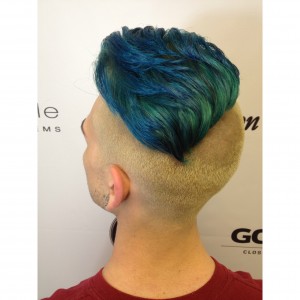 The stylist went in and gave Tim a fade haircut leaving the top long with a hard part. Then used Silk Lift Strong Lightener to lighten his hair. Once the Silk Lift did it's work they applied Colorance, Goldwell's demi-permanent hair color, he was shampooed using Goldwell Dualsenses Blondes & Highlights Anti-Brassiness Shampoo. Goldwell Dualsenses Blondes & Highlights Anti-Brassiness Shampoo is perfect for highlighted and blonde hair to reduce color fading and neutralize unwanted yellow and brassy tones. This unique formula prolongs color vibrancy while leaving hair shiny and healthy.
On the ends they pre-treated with Prepare, Elumen Prepare is a pre-color treatment specifically designed to prepare heavily damaged highlifted and highlighted hair for Elumen Hair Color. Elumen was applied.  Elumen is Goldwell's hair color and is the first oxidant-free hair color without ammonia, peroxide, and causes no damage.
Once Elumen was done processing Time was washed out and they used Color Lock Serum. Color Lock Serum is a proven prolonged color retention up to 22* washes that Instantly locks in color, and Intensifies color brilliance.