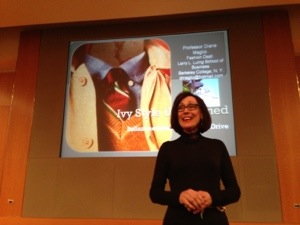 On March 28th, the New York Public Library , Luncheon Lecture Series, hosted Ivy Style Unbuttoned: Italian Menswear on Rodeo Drive. Presented by Diane Maglio Professor at Berkeley College Fashion Dept and The Fashion Institute of Technology.
The lecture covered men's styles from 1976 to 1986. The Ivy League Style of that time and how it was influenced by the Italians.
There seems to be cross influences between California and Italy. The Italians knew about branding and getting their fashions into the movies.
With our movies and TV highly driving fashion. Many of the customs shopper for the movies shop on Rodeo Drive. The italians focused on California.
She covered sweaters jackets and shirts. Comparing the fashion through out time to that of the 70's-80's and pointed out how the design of many of the trends were a look from earlier times with an Italian twist.
In the 80's the look was a preppy look with a look of self confidence, easy of manor, and success.
Call Aurelio Salon in Howell at 732-303-0052 or 732-551-2930 in Toms River New Jersey for more information about Ivy Style Unbuttoned:Italian menswear on Rodeo Drive.