Packing List When You Head to the Beach – Aurelio Salon and Spa in New Jersey
By Daisy Rosania
If you are a girl, like me and you are about taking off for a quick weekend at the beach, you don't want to end up finally missing out on that one important item when packing. It drives me nuts when I do. I don't know about you.
When packing for a quick getaway, you don't really need that much. What you need are basically the "can't-do-without-essentials" Here is a detailed beach packing tips and list that contains all the necessary essentials to help you pack very quickly. ( Images Alicia Kiwacz)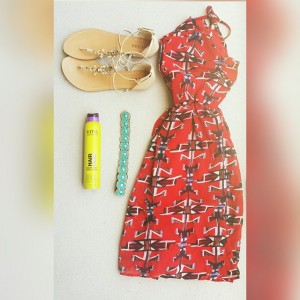 Clothing: A pair of pajamas, A pair of nice sandals, A beach cover-up, 2 bathing suits (to make sure you'll have a dry one all the time – if you're not feeling your most body-confident, you might want to check out Hermoza's gorgeous shaping swimwear), 2 tops for day, 2 tops for night, A pair of shorts, A skirt/slack, A pair of jeans, A cardigan (for those chilly sea breezes), Adequate undergarments to get you through the weekend. For any last-minute panics, there's always Walmart, and sites like Raise to help you save on the essentials.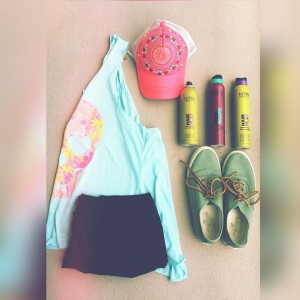 Beach Bag Essentials: A beach bag with a enough space, that favorite sunglass of yours (you should have one), A beach hat (I like them with flowers), 1 book and some paperbacks (If you are the reading type, like me), Camera (including your chargers and extra batteries), Beach Towel, Some snacks and water. Make sure you are drinking plenty of water so you do not get dehydrated!
Toiletries: Sleeping Kit (alarm clock, eye mask etc.), Toothbrush, Toothpaste, Razor, Shampoo (I like the "Moist Repair shampoo and conditioner" a hydrating shampoo, ideal for dry or damaged hair for laying out in the sun from KMS CaliforniaJ), Extra hair barrettes and ties, Deodorant, Medications (birth control, Aspirin etc.).
Haircare: If this is your first visit to the beach the change in climate will surprise you! You are going to need astyling product, hair spray, I use all KMS products. I like Playable Texture for my styling product it builds texture with additional applications. Lets you re-work a style any time you like. Leaves hair feeling natural, not sticky. All you do is spray Spray into dry hair for light, airy texture and to accentuate layers. For a Hairspray I recommend 2-in-1 styling + finishing spray it's a straightening and curling spray for dry hair. Just spray on dry hair before using hot tools. For best results, spray section by section. Spray again as a final step to hold the style. I will use their Anti-humidity seal it's a 24-hour humidity-blocking formula. Shields hair from frizz. Provides a shiny, weightless finish. Provides heat protection. Perfect for the Beach. You're going to need humidity resistant haircare for your hair. Believe me; you don't want to leave this one out.
Makeup:With your yellowish brown look, you don't need much make-up to really make yourself noticed. Keep it natural. Make sure you have a cleanser, moisturizer, and solar defense booster (contains SPF 50). For coverage your favorite tint and concealer and bronzer. Read our Beach Reach Ready Makeup Blog for more info based on skin type and some great tips!. Go with a comparable range of natural color make-up items like; blush, mascara, eye shadow and lip gloss.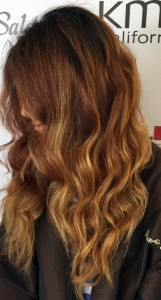 If you want beachy wave type hair you might want to follow this style equation from the team at Aurelio Salon! Shampoo, conditioner is optional, then comb out. Spray with KMS Sea Salt spray followed with 2-in-1 styling + finishing spray. Use fingers to blow hair dry up to 80% or let dry in the sun, Spray hair again with sea salt spray, Continue to dry with fingers until 100% dry. Take 2-3 inch sections and wand the hair. Leave 1-2 inches of the ends kicked out for a natural beach wave. Run fingers through and spray with KMS 2 in 1 hair spray for a light hold.
Now, you have it! A custom check-list made for you for that quick beach-weekend get-away. All you need do now is, whenever you are ready for that weekend on the beach, just grab your pen and start ticking them off. Don't leave anything out!
Find out more information about us in our video and picture galleries. Read about industry news and trends on our blog or what's new at Aurelio Salon including events and rewards customer can receive Give the gift of beauty to Aurelio Salon (Voted New Jerseys Best Salon*). Gift cards are available in any denominations.
Call Aurelio Salon in Howell at 732-303-0052 or 732-551-2930 in Toms River New Jersey for more information about how to create a packing list when you head to the beach