When to use: Thermal Round Brush or Boar Bristle Brushes? by Alicia Kiwacz
When most people are deciding between which brushes to purchase, they are often challenged in understanding why brushes are made from different compositions, why they work, and how they work. Here's the concept behind it all!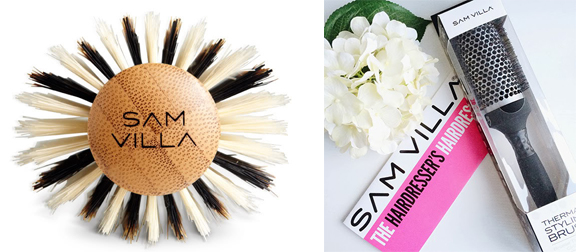 Although both provide similar end results, each has a specific design to meet the needs every woman's (or man's) hair. If you have fine to medium textured hair, a thermal round brush would be best for you. Here's why; these thermal round brushes are designed to create smoothness and volume in someone who lacks volume, and reduce the frizz in those who have fragile, frizzy strands. The core of these brushes is designed to extend the distribution of heat allowing the hair to shape to the brush. They also contain an ionic complex to replace hair with shine, giving a vivacious appearance.
When dealing with stubborn medium/ coarse hair textures, the best choice for you is the boar bristle brushes. The boar bristles create more stretch and tension for unruly, kinky strands. Thicker hair also tends to frizz, and these brushes have the perfect solution! Not only are these brushes more gentle on the scalp, but they also redistribute the natural oils in your hair giving it reflective, mirror-like shine. Just as the thermal round brushes give you beautiful end results, boar bristle brushes can give you volume, sexy waves, or straighten resistant strands with greater ease.
Sam Villa's Brushes create smoother and healthier looking hair because of there design. Made with 100% first cut boar bristle and tourmaline infused nylon, which give a smooth shiny finishes together with ionic and ceramic benefits, you'll curl and smooth hair faster than ever before.  Sam Villa hair brushes
Find out more information about us in our video and picture galleries. Read about industry news and trends on our blog or what's new at Aurelio Salon including events and rewards customer can receive Give the gift of beauty to Aurelio Salon (Voted New Jerseys Best Salon*). Gift cards are available in any denominations.
Visit us any time and receive a personal tour by one of our staff.
Call Aurelio Salon in Howell at 732-303-0052 or 732-551-2930 in Toms River New Jersey to learn when to use a thermal round brush or boar bristle brushes.