Nectaya Color Experience – Aurelio Salon in Howell and Toms River NJ
ARE YOU READY FOR A NEW COLOR EXPERIENCE! Aurelio Salon and Spa is pleased to introduce our UPGRADE Color Line. NECTAYA!
NECTAYA is a super nurturing permanent hair color that is AMMONIA-FREE giving noticeably Healthier Hair, Exceptionally Rich colors and up to 100% grey coverage. NECTAYA is a UPGRADE Color line for those that really care about their hair, and the products that go into them. Its an upgrade service at Aurelio Salon. Its like going from Business Class to First Class!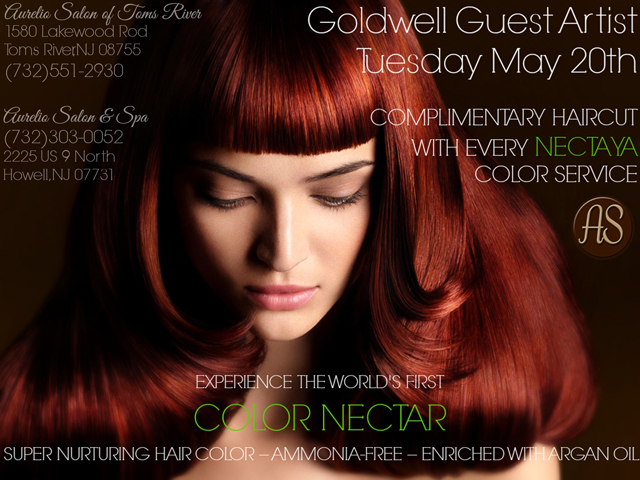 Nectaya has a concise 36 shade portfolio that allows your stylist to create the perfect color of your dreams.  Nectaya was developed in over 6 years of extensive research driven by our absolute dedication to color perfection.  Fantastic, beautiful shades of Blond, Brown and Red color families offer you unlimited possibilities both in the warm and cool color spectrum. In the hands of your hair color stylist and the flexible mixing of shades enables you to unleash all your creativity.
So how do we get healthier hair?   A unique combination of advanced technologies achieves this goal! First we start with an Ammonia-free product that is the first ever permanent hair color with patented IntraLipid™: to replenish lost lipids inside the hair. Nectaya uses up to 91 % ingredients of naturally derived ingredients for a rich, nurturing formula that is enriched with deep conditioning Argan Oil for smooth, exceptionally shiny hair.  This gives it a Cosmetic creamy consistency for an easy and even application with a 100% natural fragrance.  All this combined to create a sophisticated, rich color results with up to 45% more brilliance.
Join us for our NECTAYA event May 20th and receive a FREE haircut when you UPGRADE your color service!